Longinus The Vampire: Redemption - Horror Novel
A Gripping, Controversial, and Highly-Provocative Horror Novel
Longinus the Vampire:Redemption is the second dark, thrilling, chilling horror adventure novel by Alan Kinross. It has more twists and turns than a nest of angry vipers, and it will keep you sleepless, biting your nails, and on the edge of your seat until the shocking finale.
Be ye warned - abandon all hope, ye who enter here.
There is no redemption for the damned.
The Epic Story Of Longinus Continues
Longinus is bound to Lilith, the Queen of the Night, again. Once more, he is her Revenant, her champion, her slave.
She makes him stronger, deadlier - and sends him to protect the beautiful Vampire Lady of New York from an army of horrific feral vampires.
Protected by his new, hellish vampire armour and armed with the Spear of Destiny, it is not long before the grim centurion is once more knee deep in the bloody corpses of the undead. But to save the Lady Veronica and her coven, he must descend deeper into the dark bowels of the city and confront the horrifying, deranged queen of the ferals.
Unfortunately, Longinus soon discovers that his troubles are just beginning.
Lilith's sister, Agrat Bat Mahlat, seduces and ensnares him in her plot to destroy the Queen of the Night.
An ancient lover mysteriously reappears with a young vampire child and reveals a devastating secret to him.
He crosses swords with a fiery, young female vampire warrior and learns that, yet again, his dark past has come back to haunt him.
Lilith's twelve, hideous, demon daughters are baying for his blood.
Asmodeus, the King of Demons, wants to eviscerate him and devour his soul.
Deceived and betrayed every way he turns, Longinus must stand alone against the legions of Hell.
The final confrontation will take place on the Plain of Souls, where demons and angels battle over the souls of the lost.
In this ominous and desolate place, Longinus must fight to save the ones he cares about and, if necessary, make the ultimate sacrifice for love and honour.
However, all is not what it seems, and a much greater power may have a divine purpose for Gaius Cassius Longinus, centurion of Rome.
All shall be revealed at the end of his exciting and bloody quest for truth and redemption.
Saint or sinner?
Knight or nightmare?
Only the gods - and you - can tell.
***Some Customer Reviews from Amazon US and UK***
5 Stars: "Download THIS NOW!"
"If you enjoy Vampire Novels as much as I, you'll definitely devour this Trilogy!
Download NOW!!!!!
I read this Trilogy in 3 days!
Truly engrossing!"
5 Stars: "Longinus Series Highly Recommended"
"The Longinus series is really, really good! Itís got it all: well-written, historical settings, fascinating protagonist."
5 Stars: "Longinus Redemption"
"Another good story !!!!! Really like the characters and the story line is quite different. Looking forward to the next instalment of this series"
5 Stars: "Good"
"Good"
5 Stars: "Awesome!!"
"What a great continuation of the first book. I couldnít put it down."
5 Stars: "Very comfortable read"
"Like reading a history book."
5 Stars: "A keeper"
"What's not to like, you don't have to read 20 pages of repeated sex, or repeating itself over and over, this book is so amazing from beginning to end, including all of the sequels, this book it is very well written, you can not put it down, vampires, demons, bats, just an amazing book, I sincerely thank Alan for writing these books..."
5 Stars: "I have no idea how anyone would not like this book unless they don't like content similar to Game of Thrones. Don't misunderstand the series is nothing like GoT, but it is dark, gruesome, and sexual. I highly recommend the series to anyone looking for an incredible and unique vampire series."
5 Stars: "Great series"
"Great book. This has been a great series so far. Currently finishing off the
3rd book. I really hope there's more."
5 Stars: "Would buy it again if I got the option"
"A wild ride from start to finish. Stayed up wayyyy to late devouring both
these books. The sex is a little more prevalent in this one, but doesn't
detract from the story."
5 Stars: "Enjoyable read"
"I loved the continued book in the series and plan to read the next book asap.
The dept of the main characters expanded. The multiple plots of opposing
characters is interesting. Flow of action entertaining. Recommend."
5 Stars: "Vamp Warrior"
"Great read. Had it all lust fighting revenge and love.
Different spin on the vampire tale with dose of religion."
5 Stars: "Would buy it again if I got the option."
"A wild ride from start to finish. Stayed up wayyyy to late devouring both these books. The sex is a little more prevalent in this one, but doesn't detract from the story."
5 Stars: "THE SAGA OF TREACHERY, LOVE AND BLOOD CONTINUES IT DOES....."
"Hello, this is a really great story. The ending was a little bit of a bummer, but I can see where it fits with the next book. Good stuff. Thanks."
5 Stars: "Great Book!"
"Yet, another great novel about the life of Longinus as he struggles to walk the path of the righteous, yet the evil that surrounds him, won't let him.
Well built characters throughout the novel and a very interesting turn of events. The book unfolds like a movie and is definitely worth reading."
5 Stars: "Excellent vampire series"
"I discovered author Alan Kinross and this amazing series with the first book just a few weeks ago. These are the stories of Longinus, a vampire that has been around for thousands of years. He went through a period of peace but that has ended after his soul mate was taken from him. Longinus has had an age-old tie to the powerful Lilith and this is where the second book picks up. He is caught up in a battle between different varieties of evil forces and there are some seriously erotic scenes intertwined in this fantastic tale. This was another one that was hard to put down and I found it to be a both enjoyable and very imaginative read."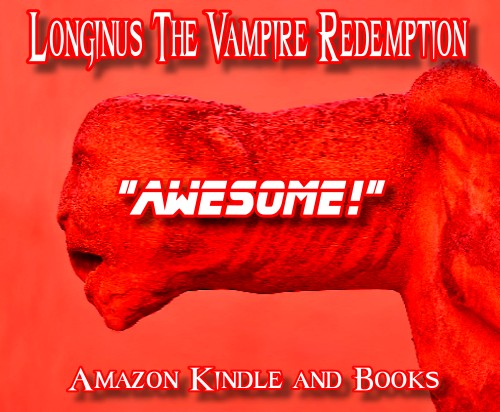 5 Stars: "Possibly better than the first-and the first is awesome!"
5 Stars: "Excellent"
5 Stars: "Dark story to envelop yourself! A Must Read!!"
5 Stars: "Just as good as the first! Definitely worth a read!"
5 Stars: "Amazing, Fun,and Sexy"
5 Stars: "Great Book!"
5 Stars: "Another amazing trip into the darkness!"
5 Stars: "A must read!"
5 Stars: "This is a great follow up book!"
5 Stars: "No cute teenage vampires here!"
5 Stars: "Unique twist on the typical vampire book"
5 Stars: "Fantastic vampire fiction!"
5 Stars: "Was well written and very action packed"
4 Stars: "Move over Dracula there is a new vampire and he kicks some serious ass."
4 Stars: "Not a bad example of the genre, then again, I love vampire books."
***Goodreads***
5 Stars: "This is not the first time I have run across the notion that the Roman soldier who pierced the side of the Nazarene became a vampire. Longinus is much better by far than the first one. This story is engaging and intense. Deeply melancholy and with unsettling amounts of violence. I was completely absorbed into the world of a singular immortal. I can't describe it without spoilers so grab your own copy and read it"
READ THE FIRST TWO CHAPTERS FOR FREE
READ OR DOWNLOAD THE FIRST TWO CHAPTERS FOR FREE AT AMAZON KINDLE EBOOKS BY CLICKING THE LINK BELOW.
CLICK HERE TO READ THE FIRST TWO CHAPTERS ON AMAZON
AVAILABLE FOR FREE ON KINDLE OWNERS LENDING LIBRARY
ALSO AVAILABLE ON AMAZON BOOKS
How to Read Kindle Books Without a Kindle
Amazon has free reading apps available for Windows, Mac, iPod Touch, iPad, iPhone, Android, Windows Phone 7 and BlackBerry. Just download and install the proper app on your device and, if you have an Amazon account, you can download and read Kindle books.